Since 1977
Suncoast Insulators and Specialties has been providing outstanding products and services throughout North and Central Florida.
With branches located in Ocala, Newberry, Tavares and Crystal River, Suncoast Insulators and Specialties continues to expand its market share, by offering innovative workmanship along with utilizing the newest advances in the industry.
Suncoast Insulators are also current members of ICAA (Insulation Contractors Association of America), NICE organization (National Insulation Contractors Exchange) and affiliated with JM Insulation, CertainTeed, ClosetMaid, Rubbermaid, Owens Corning amongst many others which allows us great opportunity and networking with industry leading partnerships throughout the country.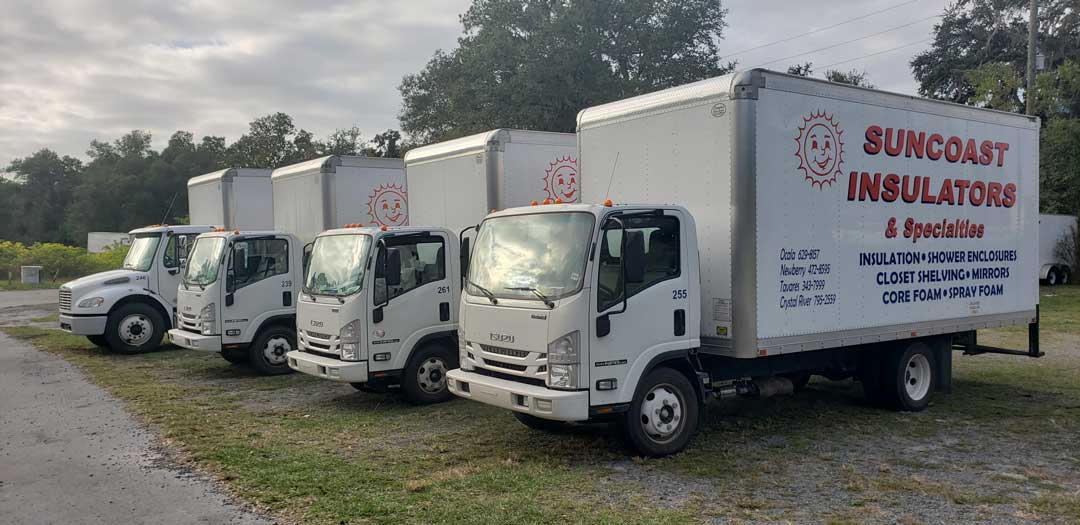 As a company that is family and longtime employee oriented, Suncoast Insulators and Specialties embodies the ideals of great craftsmanship and business honesty.
Suncoast Insulators and Specialties provides numerous specialty services, in addition to Fiberglass insulation. These are bath enclosures, mirrors, closet shelving, corefoam block insulation, open cell and closed cell spray foam and radiant barriers.
Over the years Suncoast Insulators and Specialties has maintained an enviable reputation for providing high quality products and service to our customers.
Let Suncoast Insulators and Specialties prove to you that we set the bar in the industry with our diverse product line and unmatched craftsmanship. Suncoast Insulators & Specialties has served the residential and commercial market in North and Central Florida since 1977.
From operating facilities in Ocala, Tavares, Newberry and Crystal River, we provide the services and products listed here to individuals and contractors, for new and existing homes and commercial buildings.